HOW TO USE BATTLE
Product Features
The Battle Fast Locker is the ultimate solution for athletes to eliminate odors on gear.
Designed to accommodate ice skates, football pads, soccer cleats, athletic jerseys, and more, this portable Locker is specifically designed to combat bad smells associated with sports gear.
Battle Spray is powerful, easy-to-use odor eliminator designed specifically for sports equipment. With is fast-acting formula, Battle Spray quickly penetrates deep into the surface to eliminate even the toughest odors.
GET IT NOW
"My family is sweaty - feet included. This has led to some smelly shoes… Battle has eliminated the funky smell of our shoes - tennis shoes and cycling shoes included!! It smells like a swimming pool for a few minutes, but then the pool scent disappears along with the shoe stench!" - Caroline B, March 1
"Actually a good product for getting rid of odors. I play hockey weekly and this is the only product that actually gets rid of the smell of my gear without making me smell like oranges or lavender or something. It smells like a swimming pool when you spray it but it goes away within a few minutes and it just smells like nothing---which is actually very nice compared to the alternatives." - JC, May 7
"This is a great product. Due to a past diabetes issue I can't wear socks and my shoes end up stinking. I tried this product took a couple initial sprays and then after each wear a squirt in each shoe no odor - love this stuff" Pete M - April 16
"After having used this spray for nearly a month, I am a total believer. I shoot my shoes and pads with one spray each after each mountain bike ride, and by the next ride, they not only don't smell like bleach, but they also don't smell at all.
In spite of the slightly bleachy smell, this spray hasn't damaged any of my clothing and I can quite literally spray it directly on my colored jerseys without fear of nasty bleach stains.
I am truly impressed with this spray, and I'll certainly buy it again when I am out." - Mr. Lick, September 15
"Before getting the Battle Sports Odor Eliminator Spray, I used generic disinfectant spray in my boxing gloves. It did the trick, but the disinfectant smelled awful. After using the Battle Sports spray on a regular basis, I was much happier. There is hardly a noticeable scent and it keeps my gloves from stinking. I use it a few times a week, so the bottle will last me awhile. It isn't as cheap as disinfectant spray, but the cost is worth not having to smell disinfectant spray. I would buy again!" - Adam W, October 21
MORE INFORMATION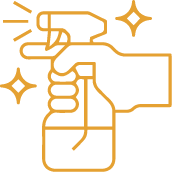 HOW TO USE?
HOW TO USE?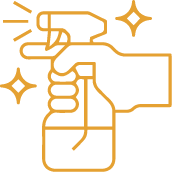 BUY NOW!